Keyholders! Did you know that most chastity cages aren't secure enough to keep your man's dicks securely inside? That's right! With most cages, men can easily pull their dicks out and put them back in. While it may be an awkward jerk, they could still manage to make themselves cum by doing so!
Sorry to spoil what's likely your secret, men, but we think your keyholders deserve to know the truth. I'm sure you have great will power and self control enough to leave your dick alone and honor your keyholder by not pulling your dick out, but what if you don't? Or what if your keyholder just wants that added security of knowing that you can't?
Before, the only option was to get a Prince Albert piercing that you connected to your metal chastity cage. While some men are willing to commit to getting such a piercing, many are not (and we can't blame them for that!). Luckily, that's no longer the only option! We have found a NEW chastity cage that will prevent dick pullouts and keep men secured in their cages.
When we first came across the cage we couldn't believe it, how could a chastity cage prevent pullouts? At the same time, we were too curious to pass up the chance to add such a cage to our collection so we had to try it. So we did it, we bought the World Cage Bali.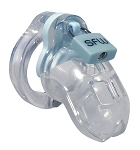 What makes this cage so special? Easy! It has its own Silicone Security Shield which acts as an anti-pullout accessory. The shield itself is optional though we highly recommend it (it comes with the cage so not an additional purchase).
Additionally, unlike a lot of high priced cages, this one comes with multiple rings so you can find the perfect size for you – AND they're hinge rings which are our absolute favorite type. Hinged rings quickly and easily fit around your balls without any awkward squeezing through a ring. Easy on and easy off.
The World Cage currently comes in three different sizes:
They are also working on developing smaller sizes so keep an eye out for updates!
---
What do you think? Would you try a cage that ensures your dick isn't getting out until your mistress allows it? Wouldn't she want you to?