Let's face it, no matter how much you love your husband, he may just not be equipped mentally or physically to pleasure you enough. Maybe he's become out of shape since you were married, maybe he's stressed with work and his libido is low, or maybe he just has a small penis that just can't get the job done. Whatever the case, his issues don't have to be the end of your sex life.
Cuckolding isn't a topic that's always easily broached, but it becomes easier the longer you and your husband are involved in a chastity relationship. If you haven't heard of cuckolding before, it is the act of a married woman having an affair with another man. In this scenario the husband is the cuckold and the wife the cuckoldress. Typically, the husband will know about the affair and depending on the relationship, may even be involved or watch (by choice or force).
Sounds too good to be true, right? You have your husband locked in chastity while you're off getting pleasured by another man. Well, trust us that it is very true and we are here to help you get it. Here is our how-to guide on how to turn your husband into your cuckold.
Keep Him Locked Up
The longer you have him locked in chastity the easier this will be. Men in long term chastity sessions are known to be more subservient and sexually open. Depending on your chastity relationship with your husband, he may become very desperate to orgasm or become complacent and know his role well. All of this works well towards turning him into a cuckold because he's going to become more open and willing for it to happen.
Let Him Know He Isn't Pleasing You
Whether you do it subtly or blatantly, be honest about your lack of sexual pleasure. Why would you even want to lie about it? To soothe his ego? It's not worth it! Make sure he's understanding that he isn't making you orgasm and consider denying his orgasms until he gives you a proper orgasm. Then he'll learn how bad he really is.
Many women keyholders like to take part in chastity humiliations as well which is a good option here was well to mock and degrade his dick.
Watch Porn Together
If this is something you already do together, great. If not, get started. It's a fun was to tease a man in a chastity cage to begin with, but when you're training him to become a cuckold, it's also a great way to comment on other men's dicks and ability to fuck while comparing them to your husband's. This will let him know that you need more while it will also start stirring up some feelings of jealousy or possibly even arousal.
Try Some Role Playing
Tell your husband to meet you at a bar and to pretend to be a stranger. Flirt with him and take him home for sex while never letting him break character. After, joke around about having just cheating on your husband. He will be in on the joke and not think much of the idea.
Kiss Women In Front of Him
Talk to your girl friends about what you're trying to do and get them on your side to do this. Or if you can find other willing women while out, go for it. Many men see just kissing someone else as cheating but they're always okay with it when you're kissing another woman so this is a great way to start moving outside the relationship and doing so right in front of him so he's okay with it.
Go Out With Friends and Mention Other Men You Meet
Let him know how much you get flirted with when out with your girl friends. Maybe mention you forgot to put your wedding ring on today and the men were really after you. Tell him that you liked the attention and almost gave another man your phone number. Your husband's reaction to this will be very revealing.
Flirt With Other Men In Front of Him
Whenever you're out with your husband, start talking to and flirting with other men. Laugh at their bad jokes, lock eyes with them, make sexual comments and make sure to touch him as much as you can.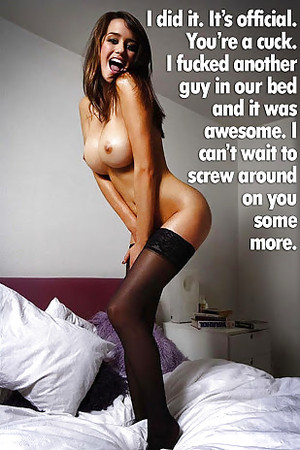 ---
Eventually you will have to bite the bullet and tell him what you really want. It's a good idea to have another man ready so you can really jump on it after you tell your husband.
As previously mentioned, depending on your husband and the dynamics of your chastity relationship, he may get really into it and want to be involved. Some cuckolds just like to watch and be humiliated by you and the other man while some men want to be so involved that they're touching the other man and even eating your cream pie. Be mentally ready for any of these reactions as well as his outright refusal.
Remember that as his chastity keyholder you hold a lot of power in the relationship, but don't do anything to risk your relationship if you truly love your husband.