Teasing your man while he's locked in chastity is a key part of any chastity relationship. It's fun for you to tease, torture and humiliate him and he'll enjoy the feeling of arousal he gets. Unfortunately for most couples, you aren't around each other all day long. Luckily, you can text him all day while he's at work or out with the guys to keep his teasing going.
Below are some of our favorite text messages broken down by different types of chastity relationships.
Chastity Tease Text Messages
* Send him naked pictures of yourself * Maybe I'll let you touch me later.
What you need is a little discipline. I think another week locked up will help you.
I haven't been able to find your key in a few days, have you seen it? * Let some time pass * Never mind, I found it.
I love feeling your chastity key around my neck. I feel so powerful.
I think I'll leave you locked up until you finally get a raise at work.
I'm craving dick so much right now. I wish you weren't stuck at work.
Think any of your coworkers have noticed your cage bulge? Don't you feel naughty wearing that in the office?
I know you've been locked for a while, but I think you'll feel better if you set a new record this time.
Remember, that thing between your legs is mine and you better not touch it.
I'm feeling horny, maybe if I'm still feeling good when you get home I'll let you out.
I'm worried about my penis. Send me a picture of it protected in it's cage within five minutes or get five days added to your term.
You made me orgasm so hard last night. Maybe if you can do it again tonight I'll let you orgasm.
What do you mean you don't know how much longer you can stay locked up? It's my penis and I'll decide when it gets unlocked.
I love feeling your cage throb against me when we spoon. We should do that more often.
Sissy Chastity Tease Text Messages
The living room is filthy! I need to really discipline the maid next time she's here
I love that we're wearing matching panties today. Don't they feel good?
I just saw the cutest panties that I couldn't resist buying for you.
I was just daydreaming about all the cleaning you're going to be doing for me this weekend.
Do you feel better now that you're in that new tiny cage? No more pretending that you have a penis, just your little clit.
I'm starting to like you as a sissy more than as my husband. I think we may need to make it permanent.
Do you feel more like a woman with your shaved legs and nylons under your pants?
I wish you were wearing a dress and working for me rather than wearing dress pants in an office.
I packed your favorite dildo in your briefcase. I need you to practice for 5 minutes ever hour.
I found us a new man for tonight. He can't wait to pound your sissy pussy.
My girlfriend was telling me how dirty her house was so I offered her your services. She expects you there a 1.
Wiggle your butt for me in your chair. Get that butt plug nice and deep.
Cuckold Chastity Tease Text Messages
My new coworker keeps flirting with me. I think I'll invite him over tonight.
He won't mind, he's locked in chastity and doesn't have a choice. * Let some time pass * Oh, sorry, that was meant for someone else.
I just met this guy who I want to bring home. Can you rush home and clean up the bedroom for us?
Don't stay out too late tonight. Jim and I are going to need you on cleanup duty.
Remember that restaurant you wanted to try? I have a date there tonight. If you're lucky I might bring you home some of his leftovers.
I have a date tonight, can you pick me up a new dress? You have the best tastes and know what will drive him crazy.
I have to run out for my date, but I left you a list of chores that I need you to take care of by the time I'm back.
Can I borrow your red lingerie? I think my date will love seeing it on me tonight.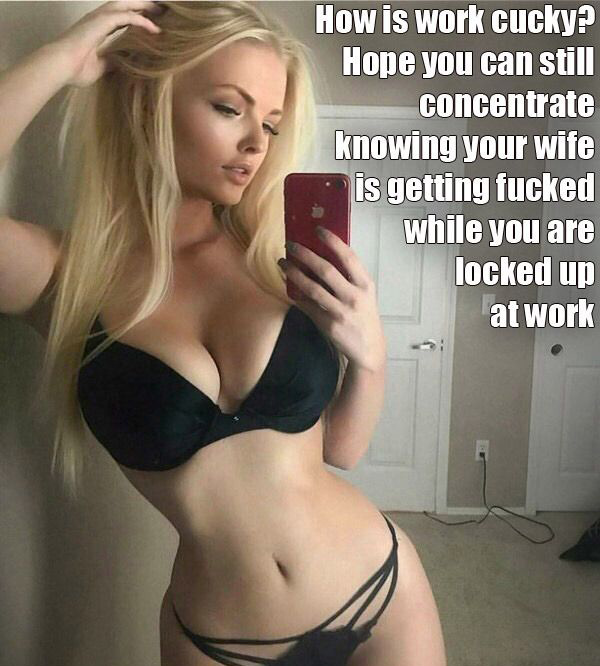 ---
What are your favorite texts to send your man? Let us know in the comments!