Let's face it, men are simple creatures. All they want is to eat, sleep and cum and all three of these things have the power to consume their simple little minds, especially their desire to cum. So what happens when you control that desire and they can't orgasm whenever they want?
Denying your man's orgasms can be frustrating for everyone at first. He's going to have a lot of pent up sexual energy at first which he's going to lay on you, hoping to get you in the mood for sex. This will be frustrating (and annoying) for you as will withholding sex from him, even if you want it. Both of these things will improve during your chastity relationship as he learns to tone down his sexual energy and you learn how to use his dick while not allowing him to orgasm.
But why would you want to withhold his orgasms? You're in the mood for sex so why not just have sex and let him orgasm with you? First of all, sometimes you will do this, when the mood is right and he has earned it. Second, there are many reasons, let's discuss:
He will love it. Doesn't make sense, right? Why would he love not having an orgasm? Denying his orgasm and forcing him back in his cage will put him in a perpetual state of arousal. He will love the feeling and you will love watching him squirm.
He will be more eager to please you. Cleaning around the house, running your errands, cooking meals, or sexually; the longer your man goes without orgasms especially if you've been teasing and denying him, the more eager he will be to please you so you will eventually let him cum. You can even assign him chastity chores that he's required to perform.
Your sex life will improve. You will still orgasm as much and often as you would like and he's going to be way more attentive and eager to pleasure you. And when you let him fuck you he's going to be in ecstasy and appreciate it and you so much more.
You will have the power in the relationship. If your man is interested in a male chastity lifestyle then chances are that he is a bit of a submissive to begin with, but either way, both being his keyholder and denying his orgasms shifts major relationship power and control to you.
Sounds like a good deal right? But how can you still get what you want when you want it while withholding his orgasms? Let's discuss the popular methods keyholders use for teasing and orgasm denial:
Oral. Make him pleasure you while he's still caged. When he has made you orgasm, make sure he knows nothing else is happening and ignore his attempts at anything additional.
Edging. Edging is when a man gets as close as he can to orgasming and then stops and holds it back. It can be difficult to do at first but with practice he can last longer in bed and you can make sure he stops before he cums.
Sheathing. Penis sheaths, or sleeves are rubber covers (like a bigger, much thicker condom) that men put on their penises. They cover their entire penis and add length and girth (bonus for us!). Make your man put a sheath on and use it to fuck you, he'll be going through the motions with very little of the feeling while you still have your pleasure.
Dildos and Strap-ons. Having your man use a dildo or vibrator on you is another great option to tease and humiliate while you are pleasured. Having him wear a strap-on while he's still caged and making him fuck you with it is not only a major tease but almost torturous for him to be going through the acts of sex with absolutely no feeling of it happening.
Ruined Orgasms. Ruined orgasms are fun because you actually let him orgasm, but you take away all of the pleasure. To do this, get him to the point of climax through sex, oral, hand, however, and once he's about to burst stop everything. His cum will dribble out (it will still shoot for some men) but by stopping the stimulation it removes his pleasure of finishing the act and diminishes the pleasure. Some men stay hard afterwards and don't even feel like they've orgasmed at all. Because they have and you let them, they still need to be appreciative of it.
Getting him to put is cage on after teasing can be quite difficult for him while he has an erection. Tell him to get an ice pack to put on his dick to settle it down and make sure he doesn't try to masturbate while he's cooling off and putting his cage back on. It's going to be a rough day/night afterwards for him because he will have so much pent up sexual energy, but he will love it.
Of course most of the above options have the risk of him orgasming even if you told him not to. Make sure he knows that if he does cum, it will be the last one for a long time. Orgasm denial is a key part of the male chastity life and chastity training – and it's a lot of fun for us keyholders. Don't miss out!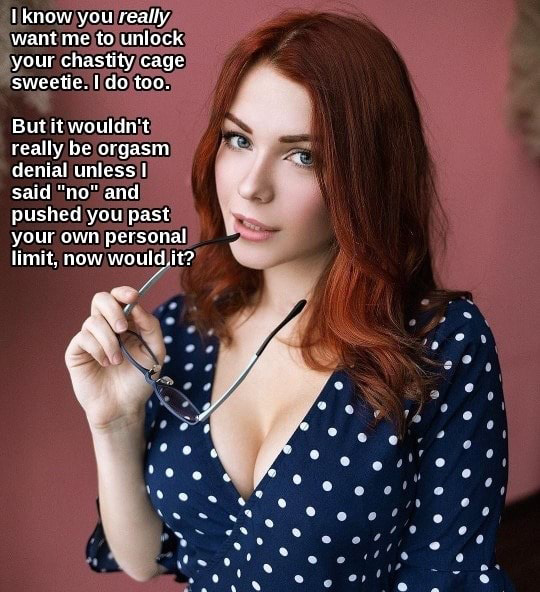 ---
Let us know your favorite ways to deny your man's orgasms and tease him!